When Jerry Spude, inventor of TF System, was asked what makes a good contractor, he took a moment to think.  His first reply was "Zach Bailey and Glen Chamberlain from Gravette, Arkansas".  Bailey and Chamberlain are what it takes to be good contractors.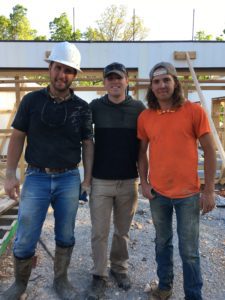 Pictured Left to Right: Zach Bailey, Contractor/Josh Isabell, Homeowner/Glen Chamberlain, Contractor
Spude was asked to elaborate what he meant when he said that Bailey and Chamberlain were what it takes to be a good contractor.
Bailey and Chamberlain were both first time contractors, and they excelled.  What made them so great at what they did?
Followed the detail manual
Took advice with open ears
Were eager to learn
Demonstrated quality work
Had warm personalities
The first house that Bailey and Chamberlain completed was fairly complex for two first time contractors, but with their dedication and hard work, they handled it like masters.
TF System has had good experience with contractors throughout its history, but Bailey and Chamberlain are solid as concrete when it comes to truly great contractors!